Access Plan | To reach by car | To reach by Plane / Train
Access Plan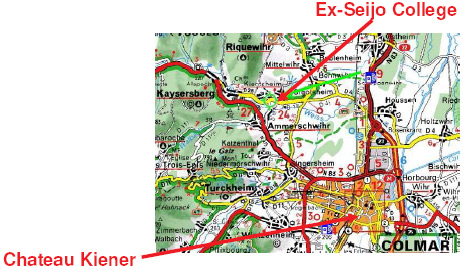 CEEJA
Château Kiener
24 rue de Verdun
68000 Colmar
Ex-Seijo College
8 route d'Ammerschwihr
68240 Kientzheim
To reach by car
Chateau Kiener
From the motorway, take the exit "Colmar sud / Fribourg".
Follow "Colmar centre", then "gare" (station).
You should be on the "Avenue Georges Clemenceau".
On your left side, follow "Centre Kiener".
Ex-Seijo College
From Colmar, take the motorway direction "Strasbourg".
From Strasbourg, take the motorway direction "Colmar".
Then
Quit the motorway at the Exit "Houssen / Kaysersberg".
Follow the direction "Kaysersberg".
Just after leaving Sigolsheim, follow the direction "Ammerschwihr" or "Kientzheim" on the left.
The CEEJA is actually the big domain on the right side by entering in Kientzheim
To reach by Plane / Train
You can land in two different international airports: "Strasbourg Entzheim" (SXB) or "Mulhouse Bale" (BSL).
From "Strasbourg" airport
There is two ways to join the main train station for the airport.
- Through a shuttle service, and then a tramway
- By taking a train from the train station of Entzheim
Once you've reached the Main train Station of Strasbourg, take a train to Colmar.
There are trains at least each 30 minutes.
Everything about the airport: http://www.strasbourg.aeroport.fr/E/index_E.html
From "Mulhouse Bale" airport
From the Swiss side of the airport, take the Bus Nr.50 to Basle to join the train station.
At the train station, go to the French side of the station and take a train to Colmar (at least one each hour)
More information here:
http://www.euroairport.com/EN/voyageurs.php?PAGEID=59&lang=EN
Everything about the airport: http://www.euroairport.com
From Colmar Station
You can reach the meeting point by walking around 5 minutes. The meeting point is "Chateau Kiener", 24 rue de Verdun at Colmar. See this map
The tournament will take place at the hosting place (ex-Seijo College).
Bus transportations will be organised between this place and the hosting place. See Hosting information.